Minnesota Pool Company – Minneapolis St. Paul
$39,900 Complete Pool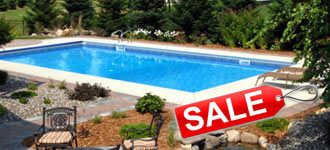 14′ x 28′ in-ground pool installation
3′ concrete deck and corner entrance steps
Pool pump, light, heater & filter included
FREE automatic pool cleaner & winter cover
FREE 1st-year pool opening & closing
When Twin Cities metro area homeowners and commercial property owners start thinking about building a new in-ground swimming pool to their property, Atlantis Pool & Spa immediately comes to mind. That's because we've been designing, constructing and maintaining high-quality swimming pools throughout the Minneapolis St. Paul area for over 30 years. Our affordable, durable pools are designed and built specifically for Minnesota's weather conditions, and they're built to last by the most experienced swimming pool construction team in the area.
Many pool companies build swimming pools, but all swimming pools aren't the same. Before committing to any swimming pool contractor, you need accurate information about swimming pools and how they should be built. You also need to take the time to discover what goes into a top-quality pool and make absolutely sure that's what you're getting. The cost of the new inground pool is an important factor, but decisions made solely on price may not be the best in the long run.
Inground Swimming Pool Design & Construction
Vinyl Inground Swimming Pools

Low Affordable Prices
High-Quality Construction Materials
Low-Maintenance Designs

As the most popular type of residential swimming pools, vinyl swimming pools are available in a wide variety of sizes, shapes, and beautiful designs. Economical in price and installed quickly, your vinyl backyard pool will provide many years of pleasure, healthful exercise, family togetherness and entertainment opportunities. Vinyl pools from our trusted inground pool company are built to the highest standards, with features and quality that make them stand out from all the rest.

Concrete Inground Swimming Pools

Unmatched Luxury for a Lifetime
Solid Value for Your Property
Infinite Design Possibilities

Custom-designed concrete inground pools and spas are the ultimate in durability, beauty, and flexibility of design. They're ideal for your upscale home or commercial property, providing a lifetime of enjoyment. Enhance your home's value and enjoy a continuous vacation in your own backyard. For commercial properties, a concrete pool is a prized amenity that attracts tenants, residents, and guests to your property, keeping vacancy rates low and profits high.

Outdoor & Backyard Swimming Pools

Vinyl & Concrete Outdoor Pools
Affordable Costs for Top Quality
The Largest Design & Pricing Selection

From a compact, low-cost vinyl pool that fits in your small backyard to a luxurious, expansive concrete swimming pool for your estate home or commercial property, rely on the Twin Cities most trusted swimming pool builder to create your top-quality pool. Give your family and guests the gift of gracious living and healthful recreation by adding a swimming pool to your property. Every day can be a vacation day around your pool, and you'll save the high cost of resort and lake vacations.

Indoor Swimming Pools

No Limits on Size or Design
Pool & Spa Combinations
Quality Recreation All-Year Around

For your luxurious home or commercial property, a custom-designed indoor swimming pool from our experienced swimming pool company offers year-round enjoyment for you, your family and your guests and tenants. We can create the pool & custom spa of your dreams in an existing space or in a newly constructed pool building. Using ideas from you or your architect, we supply the expertise, meticulous construction, and Minnesota know-how to make those ideas become reality.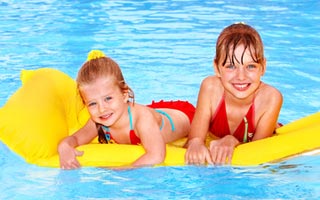 Whenever you're thinking about a major home improvement project, the cost is always an important issue. A new swimming pool, like a room addition or a remodeling job, comes at a significant cost. It's impossible to give an actual price for your pool, though, without knowing all of the details. Many factors influence the total price of every pool, and each factor depends on the decisions you make. As you can see from our special pool offer above, The specific choices you make for your pool determine the total cost. At our Minnesota swimming pool company, we'll gladly show you every option, explain all of the reasons for making choices, and work with you throughout the process of creating your new pool. After you make all of the decisions, we can quote you an accurate price for your pool. Then, you can adjust your choices to match your swimming pool budget.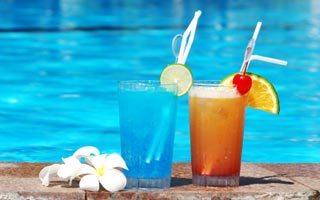 Smart shoppers are careful to compare price quotes for major home improvement projects, but it's not always easy with a complex project like a swimming pool installation. Every swimming pool includes many features and choices that influence the total price. It's a good idea to get price quotes from more than one pool builder here in the Minneapolis and St. Paul area, but it's very important to make sure the price quotes are for identical swimming pools. It's also crucial to make sure everything involved in building your new swimming pool is included in the price quote and that there are no hidden, additional costs you don't expect. Unlike some local swimming pool builders, our price quotes for every pool we build include everything involved in the project. Our price quotes are for the complete pool, ready to use. There are no hidden costs, unexpected extras, or items left out of the quote. The price on our itemized price quote is what you pay. Keep that in mind when you compare price quotes from any swimming pool company. Check the list of what is included and insist on a complete price quote.
Minnesota Top-Ranked Swimming Pool Builder for the Twin Cities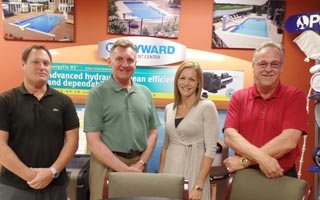 Creating your own backyard aquatic recreation oasis is an attractive goal for homeowners and commercial property owners in the Minneapolis St. Paul metro area. At our swimming pool company, we know that you have many questions about swimming pools. This website is designed to help you find the answers to those questions. We encourage you to explore our pages and become a fully informed pool buyer. Get the facts about swimming pool construction and design before you make any swimming pool decision. Contact us to discuss your pool ideas and to schedule a free, on-site swimming pool consultation and price estimate. Or come to our convenient Minneapolis area showroom, and experience for yourself the top-quality materials and beautiful designs available for your new pool. We'd love to help you realize your dream.