How Long It Takes to Build a Swimming Pool – Minneapolis St. Paul, MN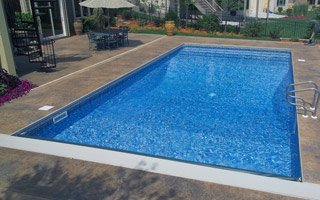 Once you've committed to the idea of building a swimming pool in your backyard or at your commercial location, you'll naturally be eager to get started and to have the project finished. Your goal and the goal of our Minnesota pool company is to have your new swimming pool ready to enjoy as soon as possible. The good news is that a typical, standard vinyl inground swimming pool takes only about 2 1/2 to 3 weeks to build. Complex designs and concrete pools take longer, of course. But actual construction time isn't the only factor that determines the time between your decision to build a swimming pool and the time you can start enjoying your aquatic recreation dreams.
As part of our accurate, complete estimate of your total pool cost, and following the decision-making process that goes into designing your new pool, we'll provide scheduling and completion information. Our consultants have access to our construction schedule. They also know from experience how long it takes to complete construction on a wide range of swimming pool designs. That means that you'll get a start date and construction time estimate you can count on. Minor delays due to weather issues or unexpected conditions can occur, of course, but our experience lets us provide you with solid information. Some of the factors that influence the time it takes for us to create your new pool include:
Scheduling – Pool construction season runs from early spring through October. All swimming pool companies begin scheduling swimming pool construction during the winter months. The earlier you commit to building a swimming pool, the sooner you'll be swimming.
Financing – Arranging financing for your new pool can also take some time, depending on how you finance. Any delays can affect the start date for construction. At our Twin Cities swimming pool company, based on your good credit, we can help you with fast, low-interest financing through a special arrangement with LightStream. Ask our swimming pool consultant.
Pool Design – The more complex your swimming pools design, the longer it will take to complete, of course. You'll discuss all aspects of design with your pool consultant, who will give you an accurate building time estimate.
Necessary Permits & Inspections – Obtaining building permits and scheduling required inspections during construction depends on the efficiency of your local building authority. We'll work closely with them to avoid unnecessary delays.
Actual Construction Time – You'll get an accurate estimate of construction time, which will depend on your pool design and materials from our experienced pool consultant.
Unforeseen Delays – Severe weather is the most common thing that can delay swimming pool construction. Other issues, like customer changes and unexpected conditions discovered during excavation, can also create delays.
Landscaping & Other Projects – If the surroundings for your pool are complex or are done by other companies you hire, these can also add to the total construction time.
Reliable, Trusted Minneapolis St. Paul Swimming Pool Builder
Everyone at our swimming pool construction company understands your eagerness to start using your new swimming pool ASAP. That's why we provide time estimates that are as accurate as they possibly can be when planning your pool. Your satisfaction with our service is our highest priority, so we always strive to start construction on time, and complete it on schedule. You can count on our determination to keep and meet our schedules. They are as important to us as they are to you. Call us today to get started creating your new swimming pool. We're eager to help.