Why Swimming Pool Price Estimates Vary So Much
In-Ground Pool ONLY $39,900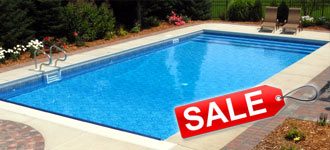 14′ x 28′ with 3′ concrete deck
Pool heater, pump, filter and light included
FREE automatic cleaner and winter cover
FREE first-year opening and closing
As a Twin Cities residential or commercial property owner, you can contact any of several swimming pool companies to get a price estimate for a new swimming pool for your property. A fact of life is that if you call four Minnesota swimming pool builders, you'll get four different estimates for similar swimming pools of the same size. The differences in price among those estimates may be surprisingly large. It can be very confusing. As a leading pool construction company in the Twin Cities, we're used to hearing questions about the different prices our customers report from various swimming pool contractors. We often help prospective pool buyers understand multiple estimates and why the price range is so wide for what seems like the same swimming pool. To help you evaluate pool estimates, here are some of the factors that cause many price differences:
No Two Swimming Pools Are the Same

Let's say you ask several swimming pool builders for an price estimate for a 14′ X 28′ vinyl inground pool for your home. You'll get a range of prices for that pool. The reason for the different prices is that each of those pools is different from the others in more than one way. Those differences affect the total price, and also may affect the quality and durability of your new swimming pool. Make sure to take your time to compare estimates carefully.

The Lowest Estimate May Not Be Your Best Value

Often, one price estimate is much lower than the rest of the bids. While that may seem tempting, beware of low-ball estimates. They may reflect low-quality materials or corners cut during pool construction. That low estimate may even not include everything your pool needs. With bargain-basement bids, hidden costs and unexpected later additions may also boost the final price of your pool to a price even higher than other estimates.

Compare Complete Estimates Carefully

When comparing swimming pool cost estimates, make sure that the estimates include the same features, options, materials, construction techniques and warranties. Compare quality for each item on all estimates, and ask questions on every point before committing. For example, if an estimate includes a pool heater, you need to know what pool heater, its capacity, and the reputation of the brand. Cheap equipment costs less at the beginning, but the long-term cost can be very high.

Compare Materials & Equipment

For vinyl swimming pools, the vinyl liner of the pool is a very important factor in the overall quality of the finished pool. A lightweight liner will obviously cost less than a top-quality heavyweight liner. The light liner may look great the first year you own your pool, but won't last nearly as long as a high quality liner. Similarly, a light-duty, undersized swimming pool pump can lower the initial cost of your swimming pool, but will be over-worked and require replacement long before a higher quality, adequate pump. A swimming pool is made of many components, and each one affects the cost and long-term value of your new swimming pool.

Compare Pool Installation

Whatever type of pool you choose, how it is installed makes a huge difference in its durability and longevity. For example, our Minnesota swimming pool company uses poolcrete to finish pool excavations before installing the vinyl liner. Other companies may just use sand. In Minnesota, ground movement is common due to freezing in winter. Poolcrete provides a solid, hard, resilient surface to support the vinyl liner. The result is longer life and more durability over time. Pool support foundations, three-way bracing, and strong deck supports for the vinyl pools we build also contribute to their durability and long, beautiful life. Cutting corners on construction may save money up front, but you'll pay later for costly repairs.

Compare Customer Service

Customer service is always our top priority. Check your estimates. Do they include free pool opening and closing for the first year? That's important. Even our specially priced pool offer includes that valuable service. Look at the details of the warranty offered by each swimming pool company. Some pool companies are only interested in building new pools, without providing quality maintenance service for the pools that they have installed. Compare and you'll see the differences.

Look for Hidden Costs

Is everything included in the estimate you're looking at, or are some costs not disclosed? For example, some Minnesota pool companies don't include some sub-contracted installation costs, like electrical wiring and gas plumbing in their price estimate. The estimate may also not include crucial equipment like steps or ladders, or an essential pool cover. Our complete pool packages are truly complete, with everything included in the estimate. No hidden costs will surprise you. Compare estimates. If something essential is not listed in the estimate, it's probably not included, but you'll still pay for it later.
Clear Pricing & Complete Cost Estimates for Swimming Pools in Minnesota
Far too many swimming pool buyers sign contracts for their new swimming pools without comparing what they're getting with estimates from other Twin Cities swimming pool contractors. High-pressure sales tactics and low-ball, incomplete price estimates are often very attractive. Later, when hidden costs appear or low-quality materials and installation become evident, it's too late. When you get a free, no-obligation estimate from our top-rated swimming pool company, it will be complete and accurate and that will be the total cost for your new pool, barring any unexpected complications or changes you make later. We'll help you with every decision along the way, giving you solid, factual information and options throughout the process. We'll never pressure you into making a hasty decision. Our excellent reputation is on the line with each swimming pool we build, and we never forget that. We know you'll tell your friends about us, good or bad. Call us today to talk about your new swimming pool. We look forward to meeting you.