Free Inground Pool Cost Estimate – Minneapolis St. Paul, MN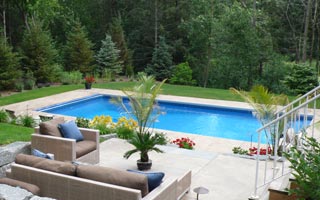 Get started on your new residential or commercial swimming pool with a free, no-obligation estimate on how much your pool will cost from our experienced pool experts. We'll evaluate your property, help you make all of the decisions needed for your pool design, answer your questions, and help you in every way possible. During our visit, we will present you the information and answer all your questions so that you can make a well-informed decision. We understand that building a swimming pool is a big complicated project and we will guide you every step of the way to design and build your dream pool.
Come into our beautiful swimming pool store, or call us for an in-home or on-site consultation. Our onsite appointments are available at your convenient time, including evening and weekend hours. You can also use our online contact form to get in touch with us and a representative will contact you shortly.
Minnesota Most Trusted Swimming Pool Company
At our leading swimming pool company in the Minneapolis St. Paul metro area, our top priorities are building affordable, high-quality swimming pools for every customer and providing the very best customer service available. When we give you a price estimate for a swimming pool, it will be complete and accurate and represents the price for your complete swimming pool installation, ready-to-use. Compare our highly affordable price quote with other price quotes for exactly the same complete pool, specifying the same quality components and construction, and you'll see that we're your best choice in swimming pool contractors. Contact us today to get started with your swimming pool dreams.