Designing & Installing Outdoor Swimming Pools – Minneapolis St. Paul, MN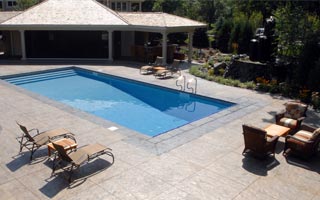 Every new swimming pool for a Twin Cities home or commercial property starts with the same idea: "Wouldn't it be great to have a swimming pool?" Since most home swimming pools and many commercial pools are located outdoors, choosing the location is often the first step. Most residential backyards have plenty of space for an inground pool, and that's the typical site chosen by homeowners in Minneapolis St. Paul. Outdoor commercial swimming pools can be located anywhere on the property. Getting from that initial idea to having a completed pool, though, involves many steps and choices. Everyone at our Minnesota pool company shares your excitement and is happy to help you build exactly the pool you want. Here's a guide to some of the decisions you'll be making before your swimming pool idea becomes a reality:
Planning a Pool for a Brand New Home – Including an inground swimming pool in the construction of a new home is a great idea. Swimming pool installation can be done simultaneously with the construction of the home. That way, your pool will be ready to enjoy the day you move in. It's a terrific way to begin life in your new home.
Planning a Pool for Your Existing Home – Adding a swimming pool to your existing backyard increases the value of your home and makes it a more enjoyable environment for you, your family and your guests. As a Minnesota premier pool construction company, we can install a swimming pool in almost any residential backyard in less time than you think, and at a lower cost than you expect.
Researching Pool Possibilities – This website is the perfect place to start. Here, you can learn about swimming pool materials and designs. Our Picture Gallery of Pools shows you many examples of pool shapes, designs, and surroundings. You'll learn how an inground pool works and what's involved with maintaining your pool. You can even watch a typical swimming pool being built. Use our website as your source and become your own pool expert.
Contact a Trusted Pool Building Company – Once you've decided that you're serious about building an inground pool, it's time to contact a pool company. Choosing a pool installer is an important part of the process. Avoiding common mistakes in making that choice is important. A reputable pool builder can guide you expertly through the many detailed choices you'll make before your pool can be built. Some of those choices include:

Materials for Your Pool – Inground swimming pools in Minnesota are almost always either vinyl pools or concrete gunite pools. Vinyl pools are the most popular and are the most affordable. Concrete pools cost more, but last a lifetime and are the most luxurious.
Pool Size & Shape – From simple rectangular swimming pools to elaborate, creative designs that incorporate exciting features like built-in spas, waterfalls and more, you'll have a wide range of possibilities from which to choose.
How You'll Use Your Pool – For general swimming and water recreation, any pool you choose will do the job. Specialty swimming pools, designed for diving, lap swimming, therapy or accessibility all require specific designs. We can build any type of pool for you. Just tell us what you need.
How Much Will Your Pool Cost? – This is an important part of making your inground pool choices. From a simple rectangular vinyl pool that can fit almost any budget, to a luxurious custom concrete pool environment, our guide to pool cost can help you make choices. Discover why pool cost estimates vary from pool builder to pool builder and avoid unexpected pricing surprises.
Pool Equipment & Accessories – Every swimming pool needs equipment, from pumps and filters to water purification and pool heaters. Understanding how a pool works helps you understand the importance of top-quality equipment. Accessories like automatic pool covers, automatic pool cleaners, water slides and other water features, can add even more to your pool's enjoyment.
Your Pool's Surroundings – The decking, fencing, and other amenities around your swimming pool, like a custom barbecue area, lighting and more are important parts of your pool design decision.

Making the Decision to Build Your Pool – Once you've made all of the decisions that go into the design of your pool, your anticipation will have grown and your expectations will be clear. We know that it's a big decision to make. That's why we don't use high-pressure sales tactics. We provide all the information you need, answer every question you have, and provide an accurate estimate for what your pool will cost. The final decision is always yours.
Minnesota Leading Outdoor Inground Pool Installation Company
As the most experienced swimming pool installer in the Minneapolis St. Paul metro, we always share in the excitement of our customers as they go through the planning process for their new vinyl or concrete swimming pools. Each new pool we install is unique to each customer, and building a high quality swimming pool for every customer is our highest priority. Our seasoned swimming pool experts will work closely with you during the planning phase, and will never rush you into a decision. We want you to have a pool that exactly fits your ideas and budget and we never forget that our customers are our most important assets. Call us soon to get started on your new pool. We'd love to meet you.