How Your Pool's Equipment Works Together – Minneapolis St. Paul, MN
A swimming pool, full of clear, clean, pure water is an asset to any property. Left to itself, though, that pool of water would quickly turn stagnant and uninviting. Maintaining that purity, clarity, and cleanliness is the job of the unseen mechanical equipment for your pool. Working silently and efficiently, high quality mechanical systems are an essential part of any pool.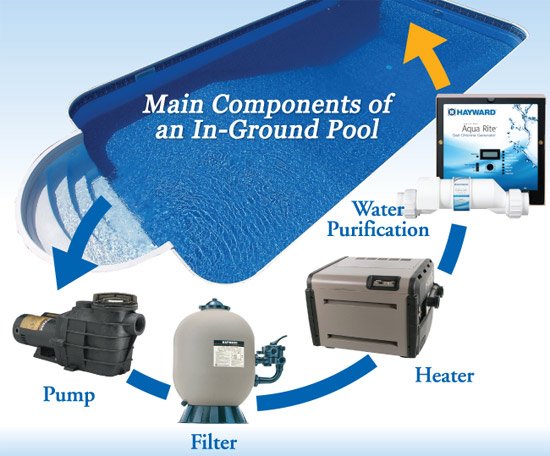 As a leading Minnesota swimming pool design and construction company, we understand the importance for time-tested, proven pool equipment. After 30+ years in the pool business, we recognize Hayward pool products as the quality leader in swimming pool mechanical systems. Priced competitively with other brands, Hayward products have the top-quality engineering and manufacturing excellence that matches our commitment to high quality that is built into every swimming pool we create. There's a range of Hayward pool equipment to match the needs of swimming pools of all sizes:
Hayward Swimming Pool Pumps

Working as the heart of your swimming pool, the pump constantly circulates the water in your pool through the pool heater, filter, and water purification system. It also powers your pool's skimmer feature and pool cleaning equipment. Hayward swimming pool pumps are engineered with the power and efficiency your pool needs, and are designed for long life and efficient performance. Our experienced swimming pool designers will help you select the right Hayward pump for your pool. Hayward stands behind their pumps, just as we stand behind the swimming pools we build.

Hayward Swimming Pool Filters

Fed by the water circulated by your swimming pool's pump, your pool filter processes all the water in your swimming pool constantly. Removing small particles from the water, the filter maintains the beautiful clarity you demand. Hayward pool filters are available in all filter formats, including sand, diatomaceous earth and convenient cartridge filters. Easy to maintain and simple to clean, a high quality Hayward pool filter is our recommendation for every pool we build. As part of your pool design process, let our swimming pool consultant show you Hayward filter systems matched to your pool's design.

Hayward Automatic Salt Water Chlorination Systems

Today, the days of constantly adding chlorine to your swimming pool and complex water testing are over. Keeping your water pure and free of harmful bacteria remains a crucial job, but modern technology now makes it simple. Almost all of the pools we build now use Hayward automatic salt water chlorination to keep the water pure. A small amount of salt is added to the pool's water, and the automatic equipment generates chlorine from that salt, in a continuous cycle. Chlorine levels are automatically maintained, letting you enjoy your pool without constantly adding chlorine. Once you learn how convenient and affordable these Hayward automatic water purification systems are, we know you'll choose one for your pool. Let us show you the details.

Hayward Swimming Pool Heaters

For Minnesota swimming pool owners, a heated swimming pool is essential. A pool heater extends the swimming season dramatically, and pool owners in the Minneapolis St. Paul area need to make the most out of every day during that season. To extend your swimming season from early spring into late fall, we recommend and install Hayward pool heaters, because we know that their efficiency, durability, and competitive pricing make them the best choice for your pool. Count on our swimming pool sales staff to help you choose a Hayward swimming pool heater that is a perfect match for the pool we build for you, or to replace your current heater. You'll swim comfortably while you save on your energy bills.
Premier-Quality Swimming Pool Equipment – Minneapolis St. Paul, MN
Among the many choices you'll make when designing your new swimming pool, the mechanical systems that keep your pool safe, clean, pure and comfortable are among the most important. Our Twin Cities in-ground pool design and construction company could recommend any pool equipment, but has selected top-quality Hayward mechanical components for its customers. Our dedication to high quality pools means that any components we supply have to meet our exacting specifications. Don't settle for less than the highest quality pool equipment. In the swimming pool industry, Hayward is the brand that is most trusted. Call us today to let us help you plan your new swimming pool. Let our experts show you why we're recognized as the quality-leading Minnesota pool contractor.