Excellence in Inground Swimming Pool Design & Construction in Minnesota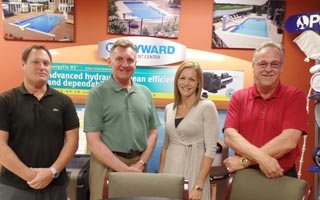 When our pool company was founded, over 30 years ago, we had just one goal: To create the best possible swimming pool for every customer. Today, as the leading swimming pool builder in Minneapolis and St. Paul metro area, our goal hasn't changed. Swimming pool technology has changed in the past three decades, but our dedication to building only top-quality inground swimming pools for residential and commercial property owners has remained exactly the same. We know that our outstanding reputation for quality and customer service is on the line with every swimming pool we build. Maintaining that reputation is our highest priority. That's your assurance that your swimming pool is as important to us as it is to you.
Helping Prospective Pool Owners Make Informed Decisions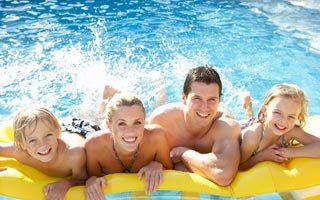 The key to providing each customer with a high quality swimming pool experience begins with information. The better our customers understand the choices they make, the more satisfied they will be with their swimming pool over time. That's why we encourage you to explore the website and discover the facts about the important issues related to installing swimming pools in Minnesota. You'll see the almost endless design possibilities for your inground pool and learn how high-quality swimming pools are constructed. We'll show you why the choices you make in pool materials and equipment affect the long-term value of your swimming pool. All the information you need is here. Beyond our website, our team of experienced pool experts is always ready to answer all of your questions and to help you through every step on the path to your new pool.
Affordable Cost & Great Value for Every Swimming Pool We Build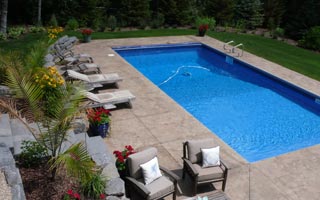 Any swimming pool contractor can give you a cost estimate for building a swimming pool. Initial cost, however, is not the true measure of swimming pool value. Every swimming pool is a long-term investment. The real cost of your swimming pool is measured over its lifetime. Only a well-constructed swimming pool, built with top-quality materials and attention to every detail can provide the performance, endurance, and low cost over time you should demand for your money. At our Minnesota swimming pool company, we build only high-quality inground pools for our customers. That's why we've been a Twin Cities leader in swimming pool design and construction for over three decades. Quality, not cheap price, makes the difference and quality is always our top priority.
Minnesota Pool Company of Choice in Minneapolis St. Paul Metro
Our pool building company has been in the same location throughout our 30+ years of designing and building the Twin Cities best swimming pools and custom spas. Our beautiful swimming pool store is located just outside the city of Minneapolis. From there, we install vinyl and concrete inground pools for both residential and commercial properties. We build outdoor backyard pools as well as indoor swimming pools. We have a large selection of designs for pools of any size and shape. We also custom-design inground pools to fit your property and budget.
After exploring our website, you've seen how we build swimming pools and viewed the wide range of pool designs and materials. The next step is to contact us. We'll be happy to come to your location and provide a free, no-obligation pool consultation. We'll evaluate your property, show you pool designs and materials, answer every question you have, and provide you with an accurate cost estimate for your pool. Or visit our conveniently located showroom and view large-scale photos of pools we have built and examine actual pool materials and information. One of our seasoned pool experts will give you the facts you need to make informed decisions about your new pool. Contact us today, and let us show you why a high quality pool from our pool building company is your best choice.