Special Construction Requirements for Minnesota Inground Pools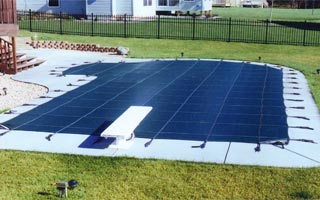 Everyone who lives in the Minneapolis St. Paul area understands that our frigid winter weather creates a unique environment that affects many aspects of our lives. Everything from fence posts to home foundations has to deal with an annual freeze and thaw cycle. Any structure that extends below the surface is subject to the expansion of water in the soil when it freezes. Inground swimming pools are no exception to that rule. Pool installation techniques and designs must allow for and compensate for that basic fact.
Expansion and contraction of soil and its water content can cause damage to many types of structures. Poorly designed or constructed basement walls and building foundations can crack or shift, leading to costly repairs. Roads, sidewalks, and driveways are often damaged by frost heaving, due to the same situation. For inground swimming pools, either vinyl or concrete, proper design, materials, and construction techniques are essential to prevent damage that can lead to costly repairs or even reconstruction.
Expertise in Minnesota Pool Construction Is a Must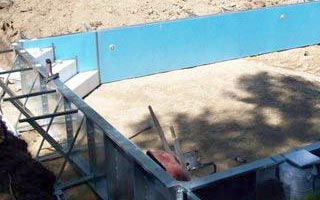 Typical inground swimming pool construction used in most other parts of the country simply doesn't stand up to the special, difficult conditions faced in Minnesota. New swimming pool companies that start business here in the Minneapolis and St. Paul area often don't recognize this crucial fact, and try to use the same design and installation techniques used in warmer states. The results can be disastrous for their customers. Having installed thousands of inground pools, our company has 30+ years of experience in building vinyl and concrete inground pools that meet Minnesota's tough requirements. We're Minnesotans from the start and understand the need for top-quality materials, along with design and construction that stand up to our difficult winters.
A high-quality swimming pool may cost a little more at first, but second best just won't do for a Twin Cities swimming pool. Cutting corners when building your pool will create high costs later for repairs. That's why every pool our experienced swimming pool company builds is a top-quality pool that is designed with Minnesota conditions in mind. We've based our reputation on installing swimming pools that last for many years or even a lifetime, no matter what a Minnesota winter dishes out. We never compromise in design or construction, and take all the extra steps needed to build pools that meet the highest standards of quality. Anything less would create problems down the road for our customers, and we won't sacrifice quality for a little more profit. Some of the issues Minnesota inground swimming pools face include:
Soil Type & Condition – The Minneapolis St. Paul metro area is made up of a wide variety of soil types. From the river sand soils of many of our suburban cities to clay-rich soils, and even spongy loam soil, the soil type and condition where a pool is built dictates its design and construction. Our long experience in pool installation in the Twin Cities has led to a complete understanding of what is required for every type of soil.
Water Table Levels – Minnesota is a state of lakes and swampy terrain, even in the Twin Cites metro area. That often means high water levels in the soil. Those conditions require special design requirements, and are some of the reasons that molded fiberglass pools aren't suitable in our environment. They can literally float right out of the ground. Our swimming pool company has built inground swimming pools in a many high water table locations.
Vinyl Pools Have Special Needs – To compensate for ground movement, vinyl inground pools require special bracing and other features not used by some pool builders. For every vinyl pool we build in Minnesota, we install deeply anchored triple bracing and solid concrete foundations for additional strength. We also use heavy-duty galvanized pool support walls and strong decking supports. Below the support walls, we lay poolcrete to provide a strong, smooth support for the pool's vinyl liner. Individual solid and flexible plumbing lines compensate for ground movement, as well. Without these special features, a vinyl pool's life will be shortened and repairs may soon be needed. We don't take shortcuts with the pools we build.
Special Construction for Concrete Pools – Concrete swimming pools, too, need extra care in design and construction for use in Minnesota. When we build a new concrete pool here, we take extra care in pool reinforcement and excavation preparation, assuring owners of a lifetime of carefree pool ownership.
Top-Quality Construction Throughout – At every stage of pool installation, close attention to detail, proper design, and commitment to excellence are the keys to a successful inground swimming pool. That's why we devote all of the time needed, from proper excavation and preparation of each site to details of plumbing. We cut no corners and we miss no necessary steps. That's why we're the Twin Cities most respected swimming pool builder.
Installing Top-Quality Swimming Pools in Minnesota for Three Decades
Since the first day we opened for business, we've focused all of our attention on building high quality swimming pools that are specifically designed and constructed to stand up to Minnesota's unique conditions. Our outstanding reputation is on the line with every pool we build, so we build each Twin Cities swimming pool to the highest possible standards. Our goal is to provide every customer with the very best swimming pool we can build, and every step we take is taken with that in mind. Call us today to discuss your Minneapolis St. Paul swimming pool. We'll show you how we build pools that are Minnesota strong and Minnesota tough.