How to Choose an Inground Swimming Pool Builder in Minnesota?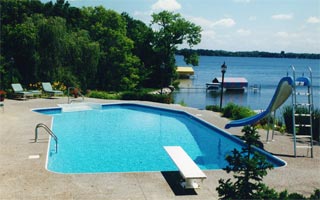 Building a swimming pool for your home or commercial property in the Minneapolis St. Paul area is a big project and a substantial investment. One of the most important factors in your satisfaction with your new inground pool is the choice of a contractor who will build that pool for you. Surprisingly, many people planning to put in a swimming pool don't do their homework when selecting a builder. The results of making the wrong choice could leave you with unexpected hidden costs or an unfinished or poorly constructed pool or could even result in hard-to-remove liens being placed on your property. Before you choose a Minnesota swimming pool company, you should consider the following factors:
Is the Pool Builder Fully Licensed & Insured?

Your swimming pool will be built by employees of your pool contractor, along with subcontractors for various stages of construction. Check to make sure any Minnesota swimming pool builder you consider has a valid contractor's license. In addition, make certain that the builder you choose is fully insured for liability and workman's compensation. This protects you in case your property is damaged or a worker is injured while working on your property. Otherwise, you could be responsible for those issues. Our pool company is fully licensed and insured, and uses only carefully selected subcontractors we know and trust.

How Long Has the Contractor Been Building Pools in Minnesota?

Minnesota's extremely cold winters mean that inground pools here must withstand additional forces caused by the freeze and thaw cycle. Swimming pool construction in our state must compensate for those forces, so experience in building swimming pools in Minnesota is important. Ask any Twin Cities swimming pool contractor about how they build pools here and how long they have been building pools in the Minneapolis St. Paul area. Our three decades of experience building top-quality pools specifically for Twin Cities tough conditions is your assurance that your inground pool will shrug off winter's challenges.

Who Will Actually Build Your Swimming Pool?

With some swimming pool companies, subcontractors will do the entire job of creating your swimming pool. As a leading swimming pool builder for the Twin Cities, our own employees, combined with subcontractors we have worked with for years, install your swimming pool. Our seasoned pool construction experts supervise and closely monitor all work, to make sure it meets our high-quality standards. Quality and on-time performance are assured.

What Will Be the Total Cost for My Swimming Pool?

Any trustworthy and reputable swimming pool builder should provide you with an accurate estimate of the total cost to install your new swimming pool. It should include every component and labor cost that goes into your swimming pool. Beware of undisclosed, hidden costs when comparing swimming pool estimates. A low-ball price quote may seem attractive, but hidden costs could increase how much you pay for your inground pool dramatically by the time it's finished. As the leading pool builder in Minnesota, we are very careful to prepare accurate estimates that include everything. Barring unforeseen complications or changes you make, the price we quote will be the total cost for your pool. Any changes will be completely discussed with you in advance.

When Will Construction Start & How Long Will it Take?

It's not uncommon in the swimming pool industry for a builder to promise a fast start on your pool construction and an early completion date, just to get your signature on the contract. All too often, you may wait for weeks or even months beyond that time. When our experienced pool sales staff gives you a start date for building your pool, they have checked our current construction schedule for available times. In addition, their experience lets them give you an accurate completion date estimate. Weather and other factors can affect those dates, of course, but our long experience helps keep us construction of your pool on time and lets us accurately predict construction schedules.

What Is the Pool Builder's Reputation?

Before committing to a choice of builder for your inground swimming pool, you should carefully investigate the contractor's reputation. Checking any builder's ratings with the Better Business Bureau is an excellent way to determine this. You can also check ratings on consumer rating websites and read reviews on the Internet. We are proud of and humbled by our consistent BBB A+ rating. It reflects our commitment to building high quality swimming pools and to excellent customer service. Your satisfaction with your swimming pool is our highest priority.
Trusted & Dependable Swimming Pool Builder in Minneapolis St. Paul
Having designed and built thousands of inground pools, we're proud of our long record of building high-quality vinyl and concrete swimming pools. We welcome your questions and investigation of our business, and encourage every prospective customer to take the time and step needed to thoroughly check out our company before signing a contract for a new swimming pool. We believe that a fully informed customer is much more likely to be a satisfied customer, so our policy is to provide all possible information to each customer. Call us soon to discuss your swimming pool plans, or stop by our beautiful swimming pool store. We'll show you why we're your best choice in swimming pool design and construction.