How Much an Inground Pool Costs in Minnesota
$39,900 Outdoor Pool Special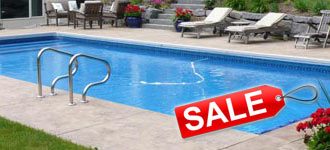 14′ x 28′ complete pool installation
3′ concrete deck and corner entrance steps
Pool heater, pump, filter and light included
FREE automatic cleaner and winter cover
The cost of your new swimming pool is naturally a concern. Building a swimming pool is a major home improvement investment. The question of cost comes up early in every discussion we have with our customers, and our answer is always, "It depends." There's no single price for a new swimming pool. Each pool built by our Minnesota top-rated swimming pool company is unique. No two pools are ever exactly alike. So the price of each new swimming pool is different from every other new swimming pool.
As an addition to your home, your new swimming pool is similar to other home improvement projects. The cost is much the same as adding a new room to your home or any other major home improvement project. Just as the cost for a room addition or a remodeling project depend on the choices you make, the total cost for your new pool also depends on your choices.
Factors That Affect Inground Swimming Pool Price
Inground Pool Materials

Vinyl inground pools cost less than concrete gunite swimming pools and are the most popular choice for Minnesota homeowners. Both types of pools have high design flexibility and long durability. We recommend that pool buyers choose a type of pool that matches their home. The more luxurious your home, the more luxurious your swimming pool should be. Your choice affects the value added to your home's value. Our pool consultants can explain your options.

Pool Size & Shape

Whatever your inground pool's materials are, the size of your new swimming pools is an obvious factor in calculating its cost. In both material costs and construction costs, a smaller swimming pool will generally cost less than a larger one. We have built swimming pools of different sizes and shapes, working with homeowners and their budgets. When you call our Minnesota swimming pool design and construction company for a cost estimate, we'll help you with size decisions and much more.

Pool Location

Where your inground pool will be built is also a factor in its cost. Soil type and condition, water table level, and the accessibility of your site to excavation and other equipment all play a role in the final cost. Having built swimming pools in just every part of the Minneapolis St. Paul metro and across the state of Minnesota, we have extensive experience in designing and constructing pools in every situation. Our free, no-obligation swimming pool estimates include an evaluation of all of these factors.

Pool Options & Accessories

As part of the design and planning process, you'll make many decisions about what options your pool will include. From choosing a vinyl liner and other features to selecting pool pump, heater and salt water sanitization system, we'll present you with all available options and inform you about how they affect the price. Accessories, too, like automatic pool covers, automatic pool cleaners, pool lighting, and more are all part of the total cost for your new pool.

Pool Deck & Environment

Every pool also includes the area around the pool. Your choices of decking materials and size, along with other options like outdoor dining equipment, pool houses, landscaping, and more are some of the decisions you'll make that affect the final cost of your swimming pool. We have been helping prospective pool owners design and install their ideal pool surroundings. You can rely on our 30+ years of experience and knowledge to help you understand every choice.
Like any other major home improvement, your new inground pool will be part of your life for a very long time. The true cost of your new pool is measured over its entire lifetime. Making the decision to build a swimming pool the right way may cost a bit more at the beginning, but your pool's durability and enduring qualities will make it a better value over time. Bargain-basement swimming pools can never deliver the long-lasting value you demand and deserve, and can't add the value you expect to your home.
Building Affordable Inground Swimming Pools in Minnesota
We build only the best pools for our customers. That's because we know that only top-quality swimming pools offer the true value that endures and enhances their property. Unlike some swimming pool builders in the Minneapolis St. Paul metro area, we simply will not build a low-quality, cheap swimming pool that will deteriorate quickly and become a never-ending problem in your backyard. Bargain-basement pools built with cheaply made parts and materials during construction are no bargain at all. Call us today to discuss your new swimming pool. In our free, no-obligation consultation and estimate, we'll help you make all the choices for your new pool by providing valuable information, not false promises. We are the top-quality swimming pool company of choice in the Twin Cities.