Indoor Swimming Pool Construction – Minneapolis St. Paul, MN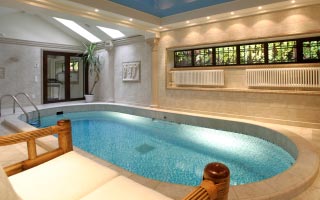 As the Minnesota leading swimming pool builder, we specialize in indoor swimming pool design and construction, too. For both our residential and commercial customers, an indoor pool means having aquatic recreation available year-round, rather than just during the warmer months. We can build a custom-designed indoor pool to suit any application, both in existing buildings and in new buildings designed specifically for swimming pools. For the ultimate in swimming enjoyment in Minnesota, an indoor pool may just be the ideal solution.
Residential Indoor Pools – Enhancing your upscale or luxury home with an indoor swimming pool provides you, your family and your guests with the opportunity to enjoy healthful recreation and entertainment throughout the year. Installing a pool enclosure as part of your new home during the design phase makes it easy. For existing homes, a swimming pool room or enclosure can be an attractive and valuable addition to your home. At our Twin Cities swimming pool construction company, we can suggest many ways to create an exciting and relaxing indoor pool environment.
Commercial Indoor Pools – Commercial properties from hotels, motels, and resorts to senior living centers, schools, and athletic facilities install an indoor swimming pool as a valued amenity that attracts clients, guests, and tenants. Corporate buildings and office complexes, too, realize important benefits from having an indoor pool on the property. As a leading Twin Cites swimming pool contractor, we're the natural choice to build these facilities.
Planning & Designing Indoor Swimming Pools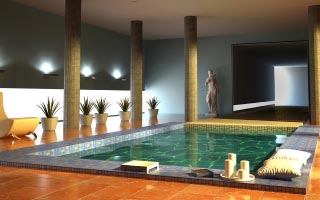 Outdoor swimming pools are relatively easy to plan, since the entire pool area is in the open air. Building a swimming pool indoors, however, means considering a number of issues not encountered with outdoor pools, including:
Indoor Swimming Pool Cost – There's no question about it: Any indoor swimming pool comes at a higher cost than an outdoor swimming pool. How much your indoor pool will cost depends on a wide range of factors. You can count on our experienced pool builder to help you understand those factors and to find cost-effective ways to keep the price of your indoor pool under control.
Indoor Pool Building in Existing Structures – Anytime a swimming pool is built inside an existing building, there are many challenges. These range from access for excavation, building foundation assessment, along with ventilation and humidity concerns. Our pool design experts know the issues and can find solutions to solve every issue in most cases by working closely with engineers and other experts.
Indoor Pool Building in New Structures – Creating an indoor swimming environment in a brand new structure is always easier. Working hand-in-hand with your architect or design team, each issue can be planned for and solved in advance of construction. Coordinating swimming pool construction with other construction is second nature for our experienced swimming pool designers.
Solutions for All Indoor Swimming Pool Issues – Ventilation and humidity control are important considerations for any indoor swimming pool. In addition, controlling chemical odors and creating a safe swimming environment are also important concerns for indoor swimming pools. It's very important to rely on the expertise of your swimming pool contractor to find solutions for all of these issues. Our designers and engineers have the right solutions and the expertise you need to plan your indoor pool.
Minnesota Top-Rated Indoor Swimming Pool Builder in Minneapolis St. Paul
Our talented team of pool designers and builders are at your command. We have 30+ years of experience in building both indoor and outdoor swimming pools. We bring our creativity, knowledge, and experience to every aspect of creating your indoor pool. From initial design and planning, to complete construction, we'll recommend the right equipment, find solutions for every issue, and help you create an ideal indoor aquatic recreation environment. If you're considering an indoor swimming pool for your home or commercial property, contact us at the very beginning of your planning. We'd love to help your create your dream pool.