Vinyl vs. Concrete Swimming Pool – Minneapolis St. Paul, MN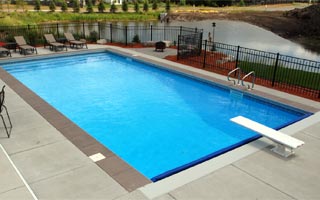 As a leader in swimming pool design and construction, we install both vinyl and concrete pools for our customers and have been building both types of swimming pools for over 30 years in Minnesota. One of the questions we hear often from prospective swimming pool buyers is: "Which type of pool is better, Vinyl or Concrete?" Our answer is always that it depends on many factors. The real question customers should ask is: "Which type of pool is better for me?"
There are few universal rules about swimming pools, because each swimming pool is unique, and what is best for one property owner may not be suitable for another. That's why we build both vinyl and concrete gunite swimming pools. The one rule about swimming pools that applies to everyone, though, is that quality is the most important factor in any pool. Every swimming pool we build is a high-quality pool, whether it's a vinyl pool or a concrete pool. To help you choose the right type of pool for your needs, here are some features of each type of pool:
Vinyl Inground Swimming Pool Features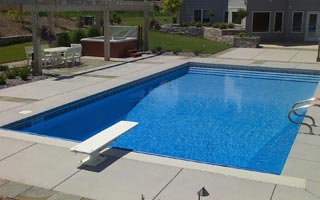 For many reasons, vinyl swimming pools are the most popular pools we build for residential owners in the Twin Cities. Affordable and installed quickly, they offer the pleasures of backyard swimming for just about any homeowner. Here are the properties that make them our most popular residential swimming pools:
Unique Beauty – Today's vinyl inground swimming pools come in an endless variety of shapes and sizes, and the beautiful designs of the available vinyl pool liners provide the look of luxury without the high cost of expensive tile and other high-end pool materials.
Solid Durability – Vinyl pools maintain their good looks and performance for many, many years. While a vinyl liner won't last forever, simply replacing the liner with a new one refreshes the pool for many more years of service. Many owners replace their liner just to change the look of their pool.
Design Flexibility – Your vinyl inground pool can be built in any shape you like, and can incorporate a wide variety of options and accessories. Add walk-in steps, an automatic pool cover, water features, or many other options to create a unique design for your home.
Fast Installation – Vinyl in-ground pools can be built quickly. That means that you'll be enjoying your pool soon after construction begins. There are no long waits for concrete to cure. Add decking and other features, and you're ready for fun.
Reasonable Cost – The low cost of a complete vinyl swimming pool is comparable to a typical new car or a room addition. A new pool can fit just about any homeowner's budget and brings water recreation directly to your home.
Concrete Gunite Inground Swimming Pool Features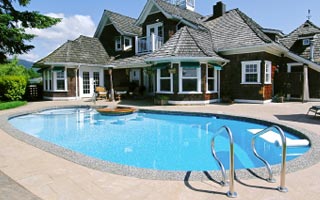 When the ultimate in luxury and durability is the goal, concrete is the answer for swimming pools. Also called gunite swimming pools, they are the gold standard in aquatic recreation. Completely flexible in design potential, the enduring qualities of a concrete pool, complete with luxurious tiling features and more, make a concrete pool the ideal match for luxurious homes and upscale communities in Minnesota. Designed and built to last a lifetime, concrete pools are the choice of property owners who insist on only the best of everything for their property.
Flexibility of Design – A concrete or gunite swimming pool can be built in any shape or size you can imagine. Using luxurious tiling and other fine materials, we can create any aquatic environment you choose with a concrete swimming pool.
A Lifetime of Endurance – You can count on your quality-built concrete swimming pool to provide beauty and enjoyment for many decades. It's a permanent addition to your residential or commercial property.
Solid Durability – Any concrete pool we build will stand up under constant use without damage, even in commercial settings where large groups of people use the pool daily. In a residential setting, your pool will retain its beauty and recreational possibilities for a lifetime.
Genuine Added Value – For high-end properties, a concrete swimming pool adds considerable and lasting value to the property, and increases its appeal and salability should you ever decide to sell.
A Must for Commercial Properties – Building codes in most Minnesota cities require that swimming pools on commercial property be made of permanent materials. Concrete pools are the standard option in Minnesota.
Twin Cities Top-Quality Swimming Pool Construction Company
Whether you choose a vinyl or concrete inground swimming pool, quality is its most important feature. A low-quality swimming pool quickly begins to deteriorate, losing its value over time, while a premium-quality pool retains its value, both in monetary terms and in the enjoyment it provides. As the top-rated Minnesota pool construction company, we build only the best swimming pools, whatever their materials. From design to construction, every aspect of our work is done with quality as the top priority. The evidence of this can be seen in the enduring beauty of the pools we have created in our 30+ years of pool building. Quality is our highest priority from pool construction to customer service. Contact us to discuss your new pool, and let us show you why quality makes all the difference.